NZ Ch Darrowby RSierra Reggae-Photo courtesy of Karen Parnell
Season's Greeetings
Available older dogs
our Easter surprise!!!!
Darrowby Goldens is the result of a fifty (plus) year love affair with Golden Retrievers. Dennis and Sallie D'Asaro have a small show kennel in upstate New York dedicated to quality, multipurpose sound dogs of a classic type. Founded on the best of the British Isles, Darrowby has incorporated wonderful lines from other kennels that share our philosophy on soundness and type. Look at our English type Golden Retriever puppies and adults, and decide for yourselves!
If you are interested in a Darrowby puppy, we will ask you to please fill out our PUPPY QUESTIONNAIRE first.
Thank you for visiting. Come again soon, and we hope you enjoyed!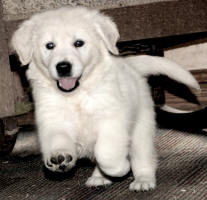 In response to many concerns on chat lines about protecting puppies and dogs from poisons in the home, we are compiling an everchanging list with links and some basic information for dog owners. THIS IS NOT TO REPLACE IMMEDIATE ATTENTION BY YOUR VETERINARIAN IF YOU SUSPECT POISON.
Copyright 1999-20016 Darrowby Goldens - All Rights Reserved
Site designed by Darrowby Design Demons and absorbed.org