Canadian Champion Montego's Circle of Life
"ELTON"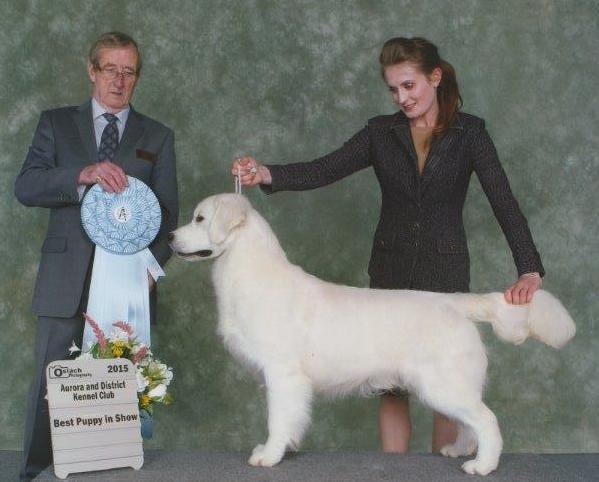 2016 newsflash--Elton went to Canada for a week in August to spend time with Hailey, and he is now Montego's 74th champion! We can't thank Rose enough for sharing this lovely young boy with us. Thank you Hailey Griffith for your superb handling and presentation of Elton, and our thanks to breeder judge James Reynolds who gave Elton his final 2 points. We took Elton up on Monday and brought him home finished on Sunday.
Elton went to Canada in 2015 with handler Hailey Griffith, and he came home when he dropped his puppy coat. This was not before getting most of his championship points, and strutting his stuff to a Best Puppy in Show Award!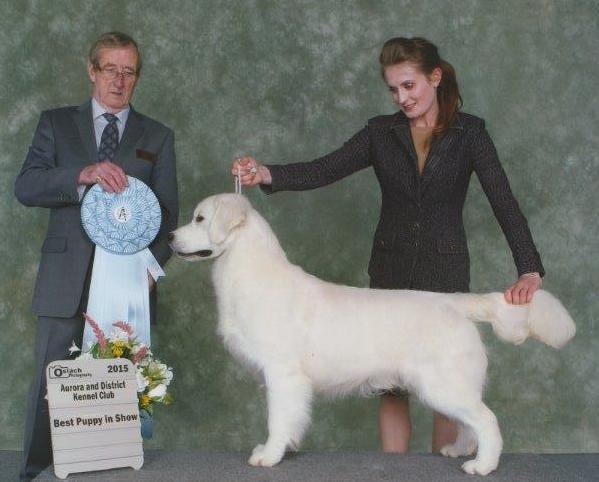 We have high hopes for this young man. He is one of the most tested dogs in the world. He has a BVA hip score of 3:3 with 0:0 elbows. He is OFA prelim excellent with prelim OFA normal elbows. He has a cardiac clearance and eye clearance, He is Ichthyosis, pra 1 and 2, prcd and MD clear on dna tests. MSU has certified him normal on thyroid tests. His first litter produced Canadian Champion Darrowby Fields of Athen Ri, who is one win short of his grand championship at 10 months of age.
Coming to us from down under, Elton is our newest imported member of the Darrowby family. We have Rose Easton of Montego to thank for this wonderful young prospect, as well as the breeders of Leonardo of the Hellacious Acres-Leo the lovely sire of the Lion King litter. Here is Elton at ten months-you can hardly see him for the snow! I don't know where he managed to find the mud, but if it's there he will find it.
Elton at five months..can you believe how mature this boy His coat is incredible and we love his angles. Another cobby, heavy boned boy at Darrowby!!!!
Elton is a very special boy, born during a time when the Circle of Life was a really prominent part of our lives. His dam, Serbian Ch Mitcharron Miss Saigon, produced a lovely litter heavy on the boys for the newest choice to come to New York. He is an Ichthyosis clear male (hurray!) with a fabulous sire and a wonderful legacy. We can't wait to welcome both Elton and Flame to Darrowby in September of 2014. Check out these baby pictures.....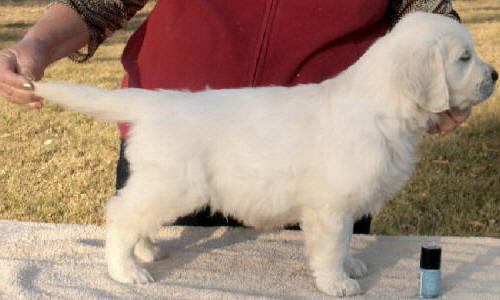 and look at the parents!
We are thrilled to have this new boy joining us. We fell in love with the Hellacious Acres dogs, and Missy is such a classic, lovely bitch that the combination was something we couldn't pass up. Come back often for more pictures of this guy. We love his angles, his pigmentation, his classic outline and head and his lovely soft expression. He has a nice amount of leg under him, correct body length and tons of bone. Here is Elton, sharing the pond and learning the ropes at Darrowby. Flame helps with him with most things.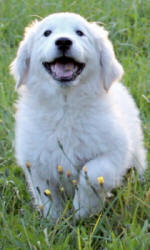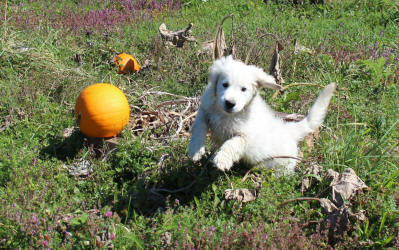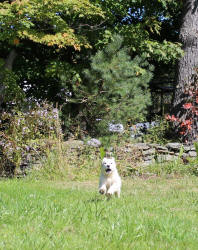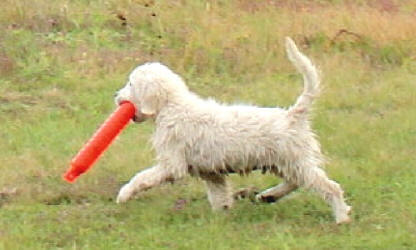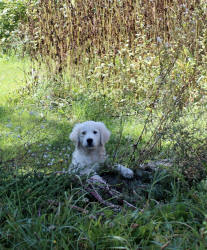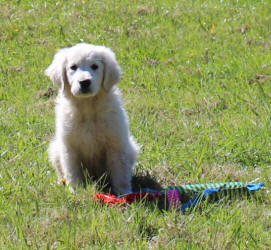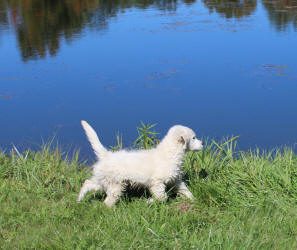 Look at that extension, and great retrieving drive.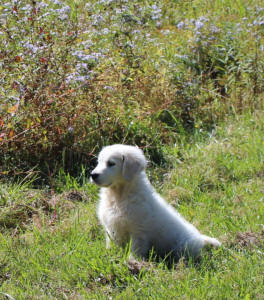 Elton is watching us, and we will be watching him just as intently. He is a delightful puppy. Rose-another winner! The pair seem to be a new touch of magic here at Darrowby