introducing....Canadian Champion Montego See Me And Remember
"Canon"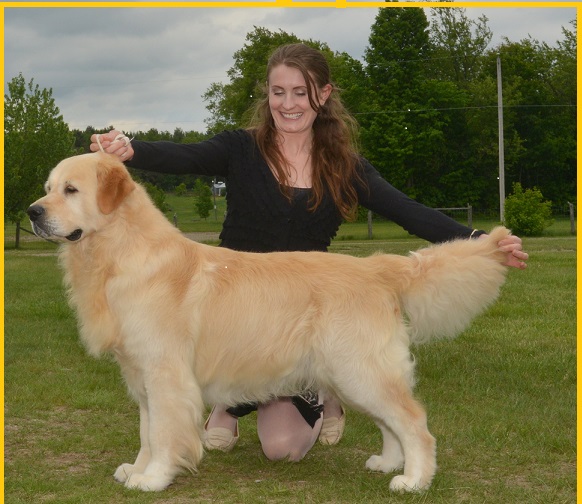 -our wonder from down under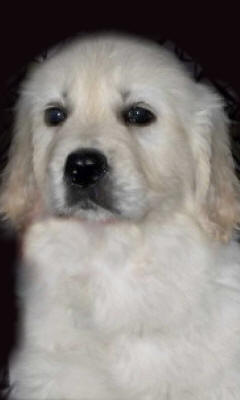 the 7 week "serious" look
11/12/2011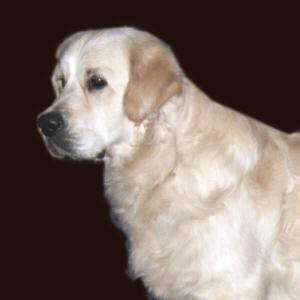 and at a year old
with an OFA final good, normal elbows, CERF at 24 months and cardiac clearances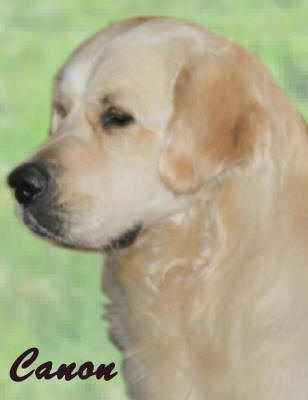 at 18 months
with BVA hips 2:2, BVA elbows 0:0, CERF and cardiac clearances as well as ICHTHYOSIS CLEAR, prcd and gr pra1 CLEAR see clearances
Fulfilling the earlier promise so nicely! THANK YOU, ROSE
We went looking for some of the older pedigrees that have contributed many strengths to the Golden gene pool, combined with a fabulous fun loving Golden temperament and trainability. Imagine a pedigree where the third generation is from the 1980s! Add some of the top winning dogs ever from Australia with tremendous winning records and fabulous movement, and we congratulate the breeder on her planning and her knowledge of what works in Golden pedigrees. Thank you, Rose! Your 73 Champions will have to be revised in the near future, and we were happy to add this boy to the long, distinguished list as well!
First, we wanted a sound puppy with correct Golden type and conformation that allowed for true movement, coming and going. If the body wasn't there, we didn't care about the head--it was the entire package we were after.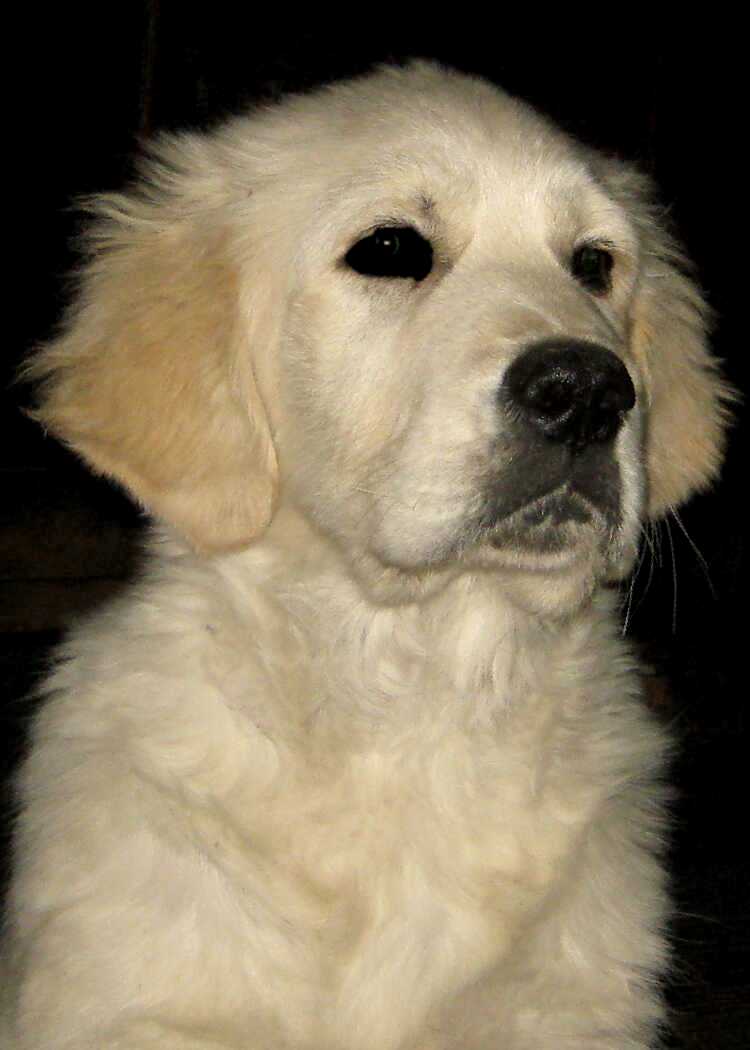 We wanted a wonderful soft expression with pigment to die for, and the excellent stop with two parallel planes on the headpiece that has a proper muzzle (not overdone) combined with a strong backskull, the cobby look with lots of bone and coat (no freight train so no excessive loin length between the end of the rib cage and the hip bone!), super angles, an elegant topline and correct tailset, a strong rear with correct hock length, nice tight feet coupled with all the newest available clearances. Correct Golden temperament with a consistently cheerful and active puppy that had all the self confidence in the world was required if we were to get a pup who was always ready to strut his stuff, but would stop and look at the judge with a "let me melt you" intense gaze.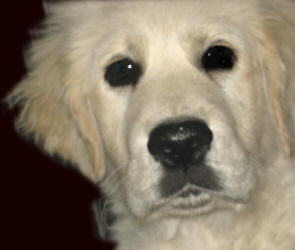 The hunt has been extensive in both scope of dogs reviewed and time taken to select our newest member. We have literally searched all over the globe. We looked at dogs in many countries, and some exciting dogs are available in countries where Goldens breeding and showing is relatively recent.
We decided for now we would stay where we knew the dogs and where we could find dogs from the older breedings done with frozen semen, bringing a pedigree that has many well known older icons of the breed up close and personal.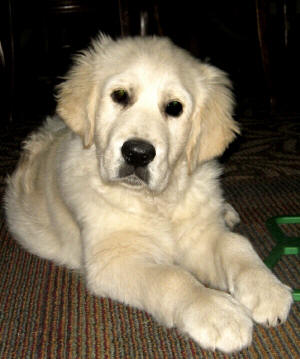 This is our needle in the haystack-and we couldn't be happier. We found the perfect package with an incredibly responsible and successful breeder (not to mention both professional and exceedingly nice-exhibiting a level of politeness that has room for many more people!) who put up with all of our request and queries. This boy was seen by a cardiologist for a puppy clear heart, a radiologist for an early Xray that was also reviewed and pronounced with a VERY prelim "perfect" by our radiology specialist stateside., his eyes were examined and cleared for all the things we can find on a puppy, he said"AHHHH" and his DNA was sent to the US to assure he is clear normal for the newest DNA tests and his parents were both clear normal for Ichthyosis as verified by the Antigen lab in France. We will give Canon the opportunities he deserves!
This is 11 weeks.
Canon-"the authoritative rule or standard.."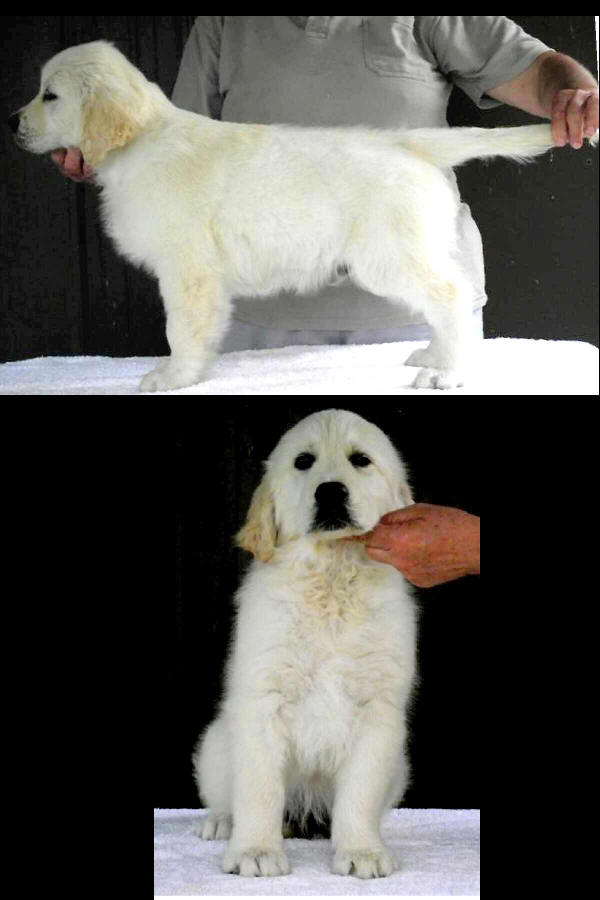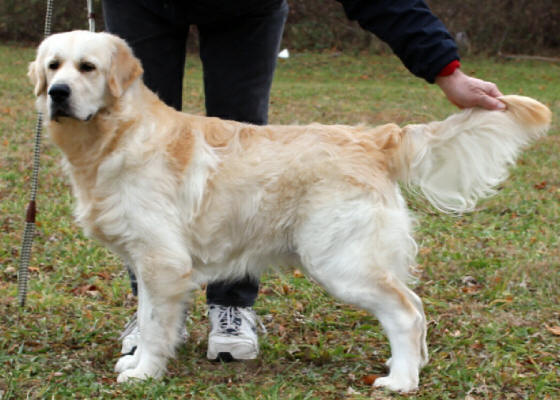 fast forward to one year old
Look at those feet!
Canon, in 2013, checking out the snow at Darrowby with his pals Frost and baby BOLO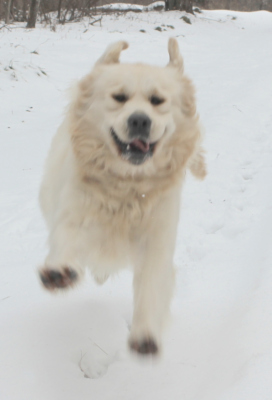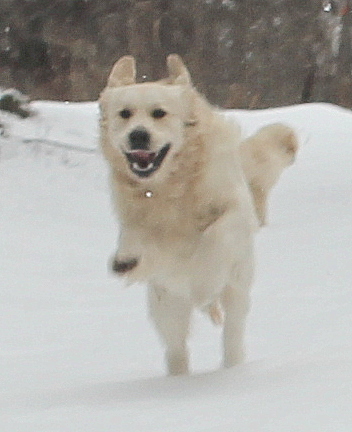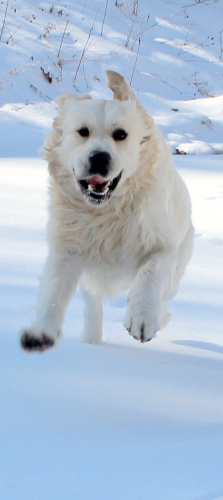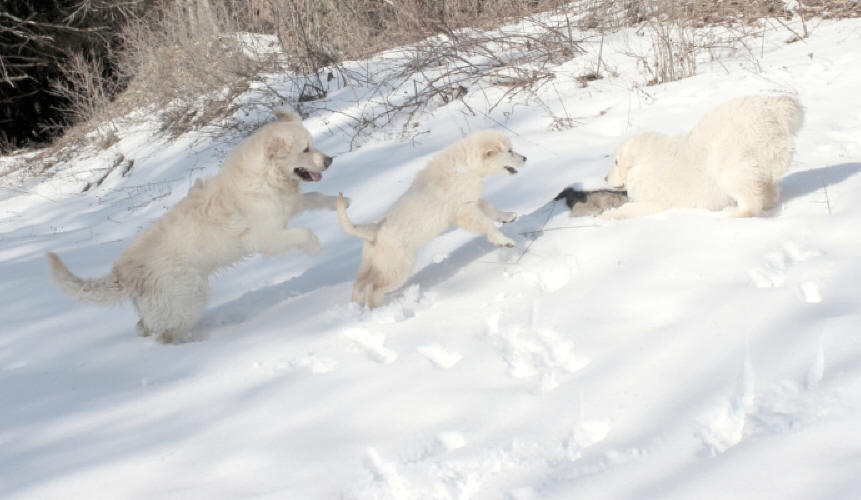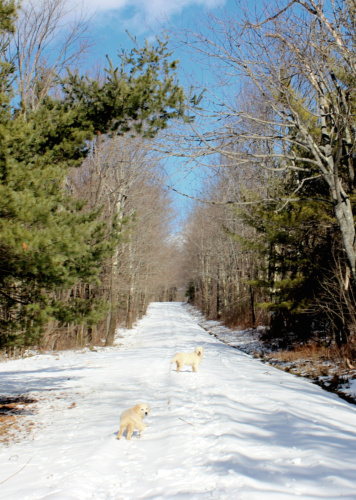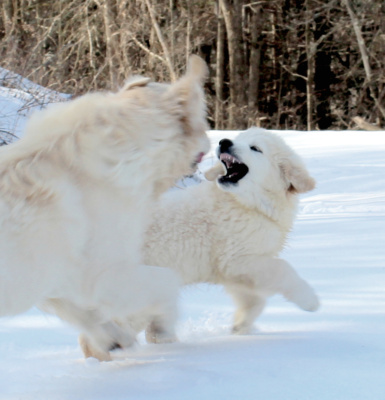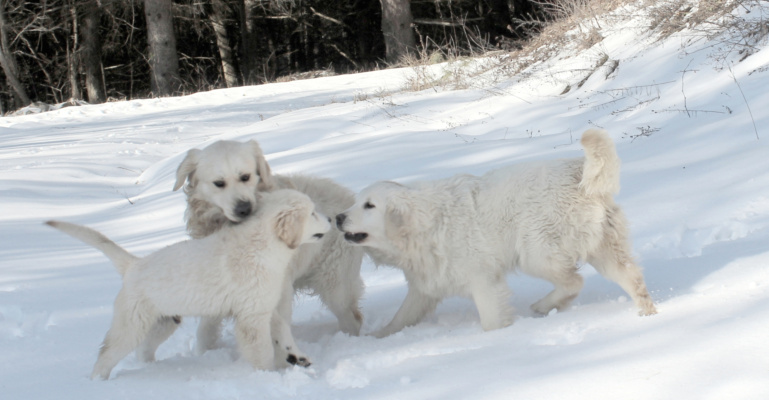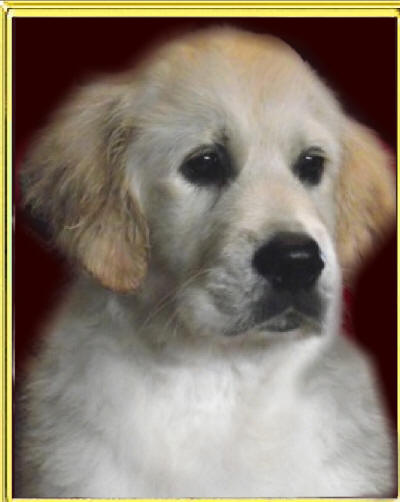 We took a ton of pictures of this puppy, and we can't get a bad shot--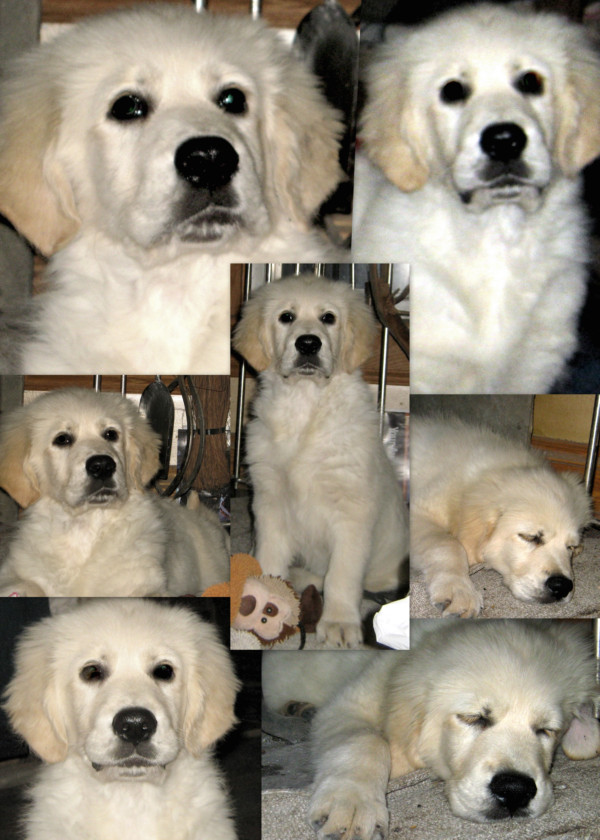 that is NOT a complaint!!

Canon went out to explore Darrowby and the surrounding state forest...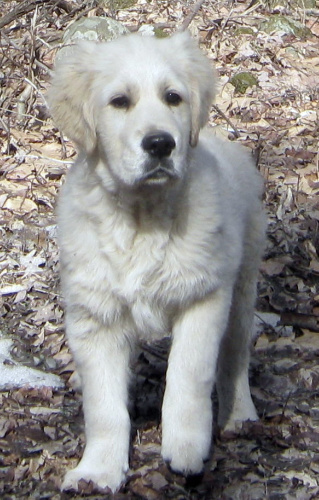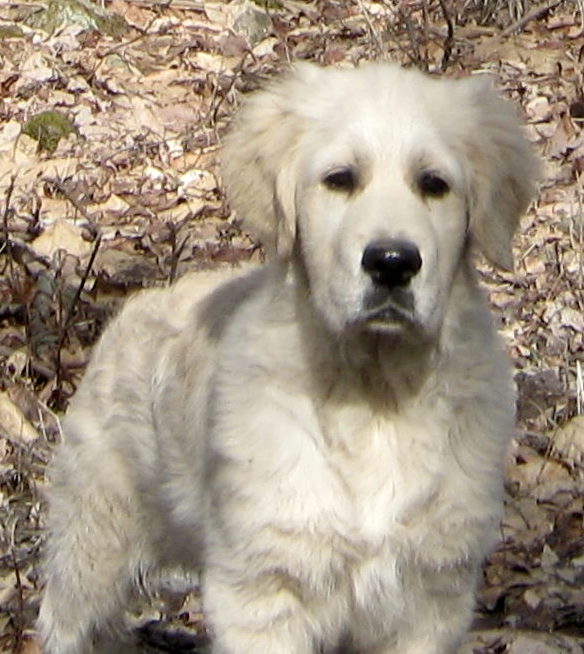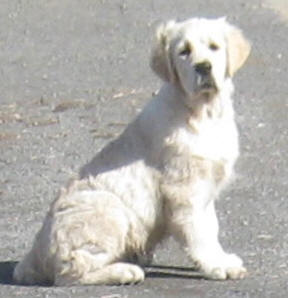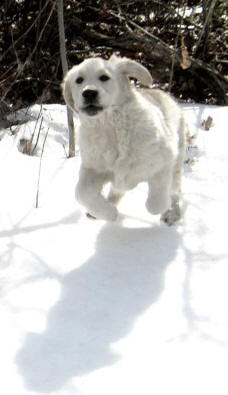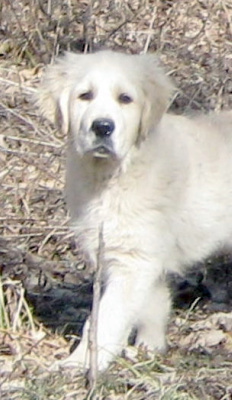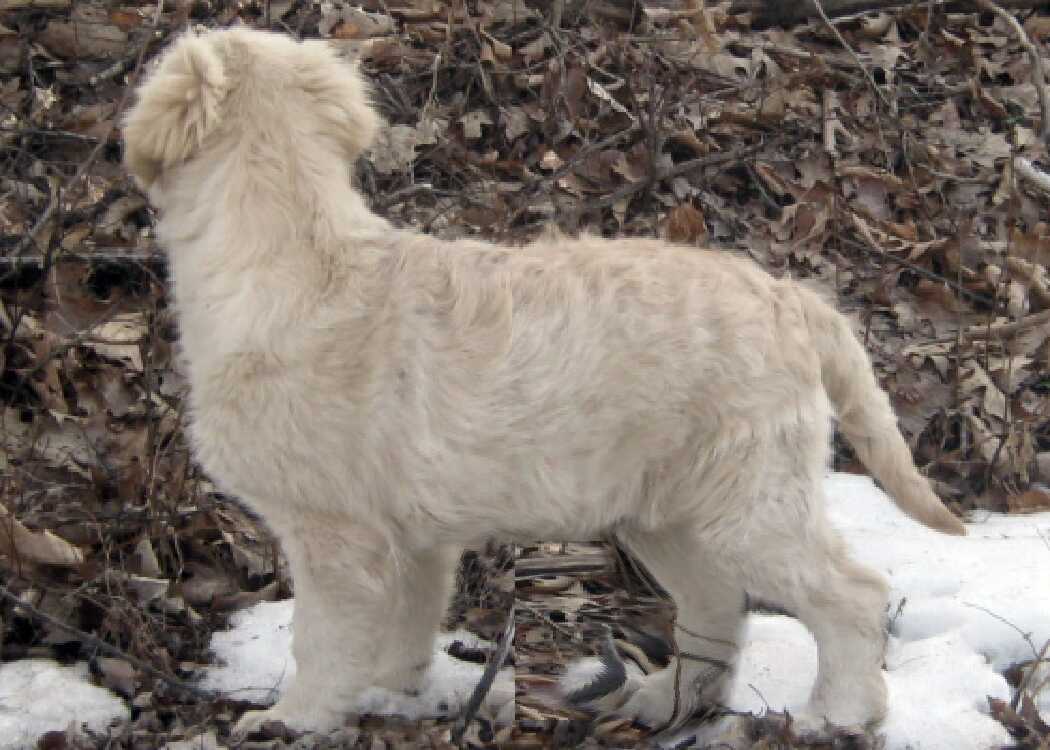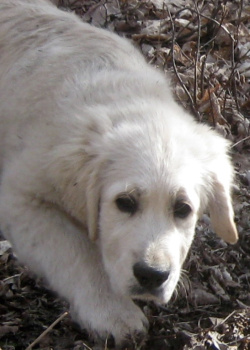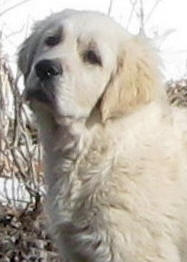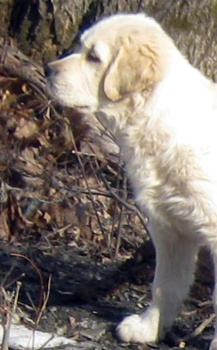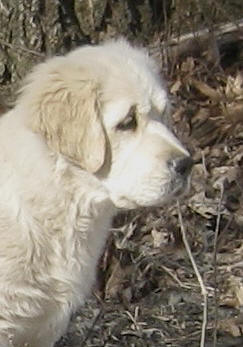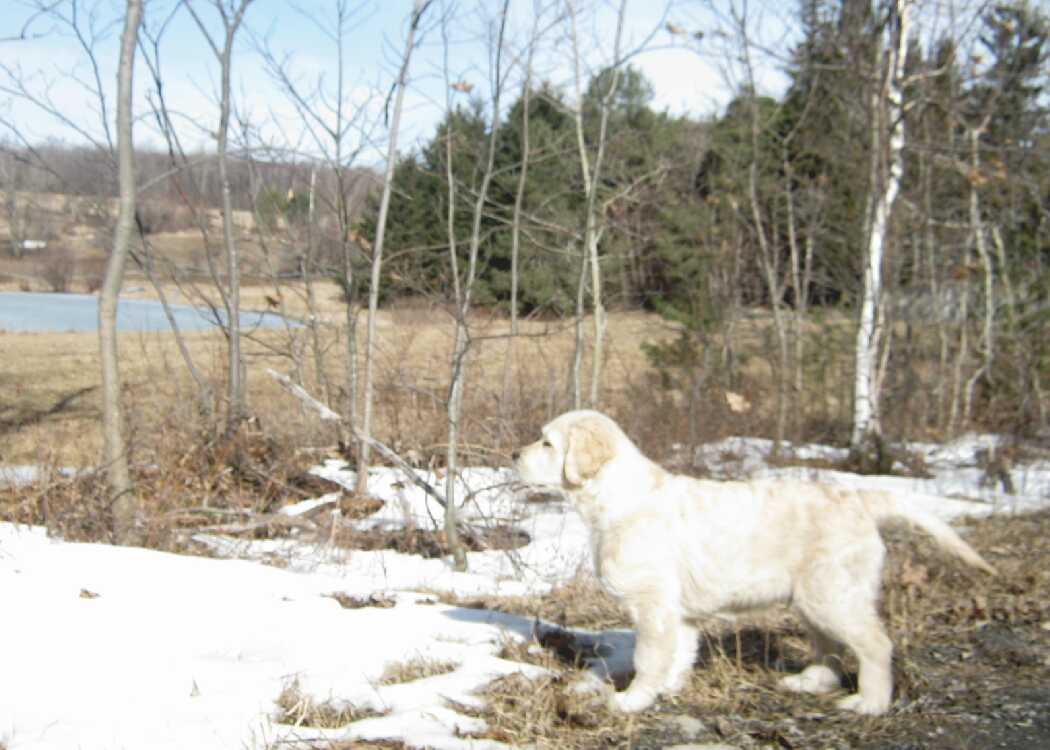 Canon getting his first look at the edge of his very own Dragonfly pond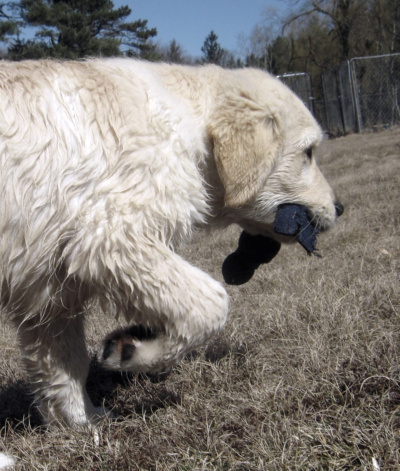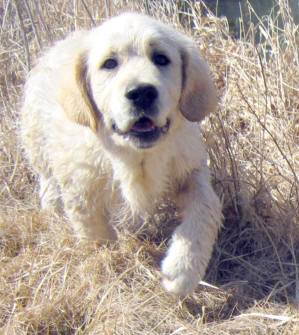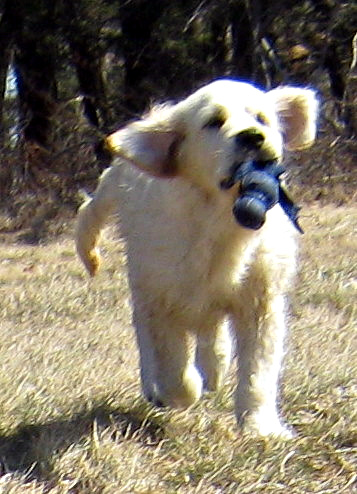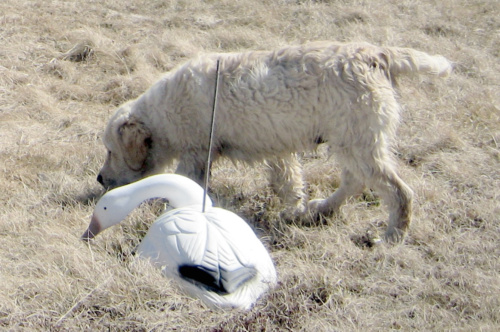 and 3 weeks later, at 4 and 3/4 months old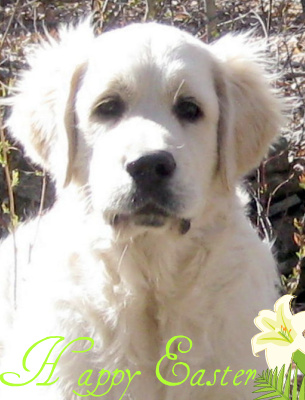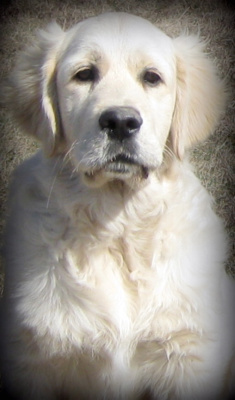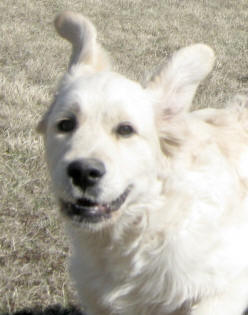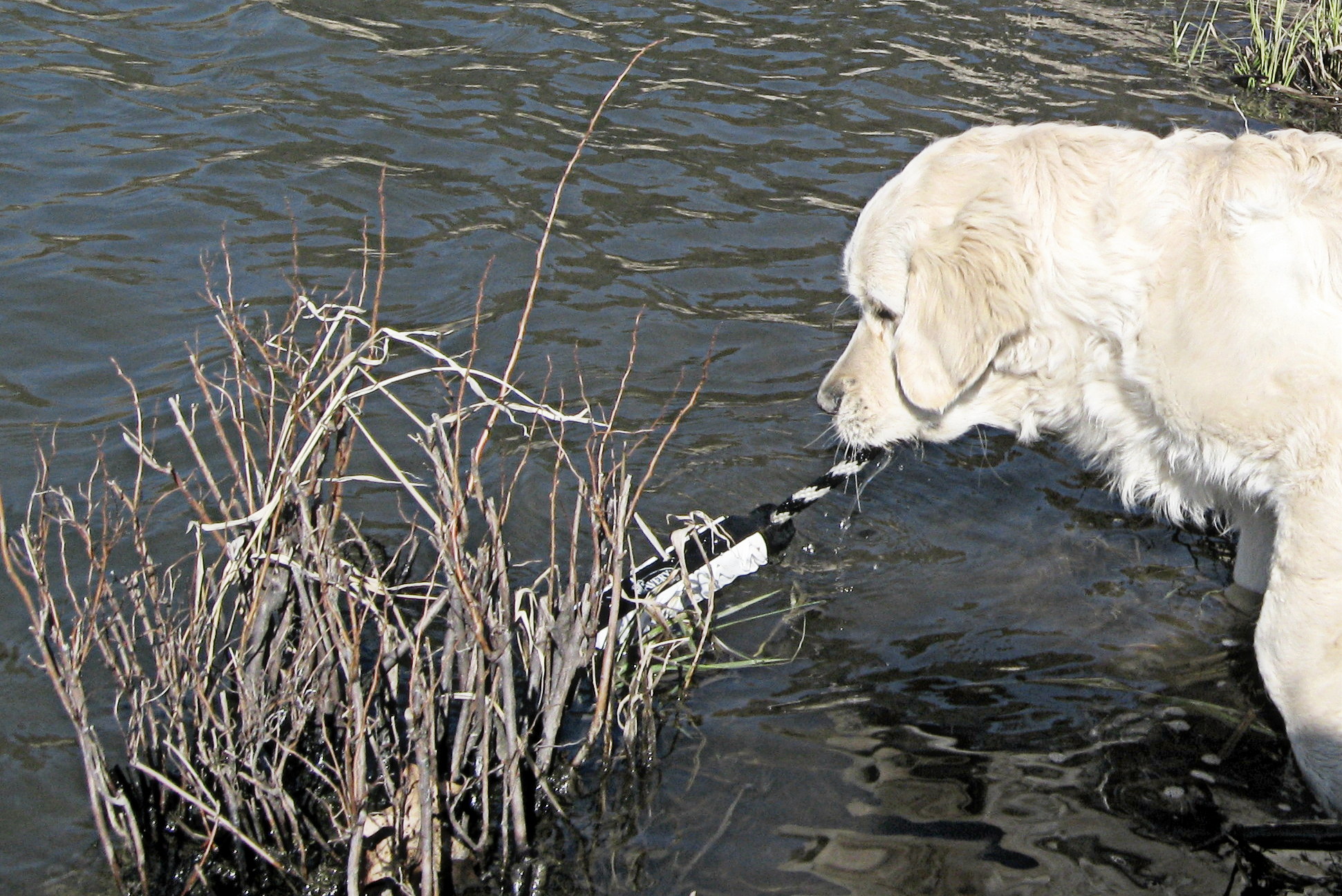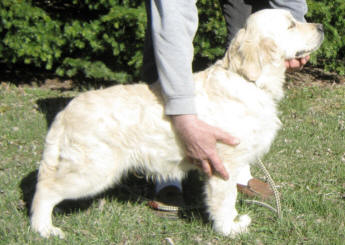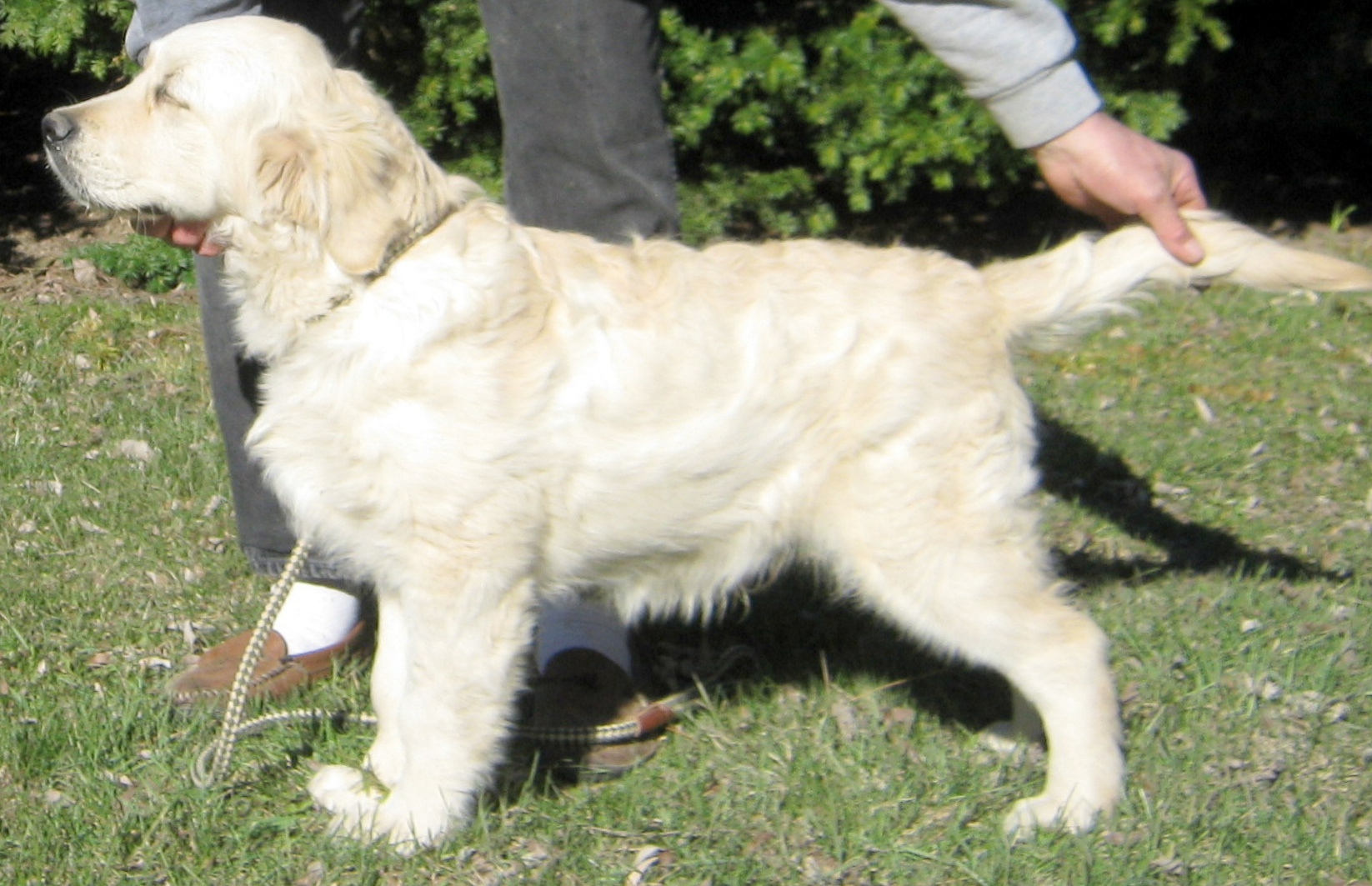 posing for the long road ahead..
Update for Cinqo De Mayo
it is so nice to be surrounded by a state forest in the Catskills, and to have a delightful extra pond there full of tadpoles and peepers!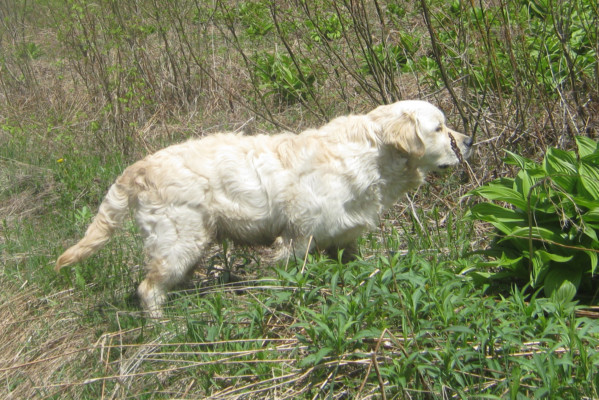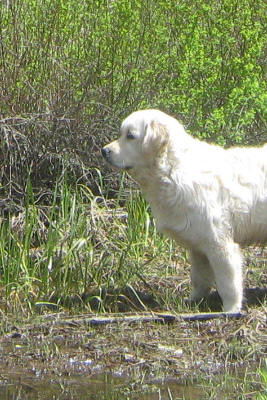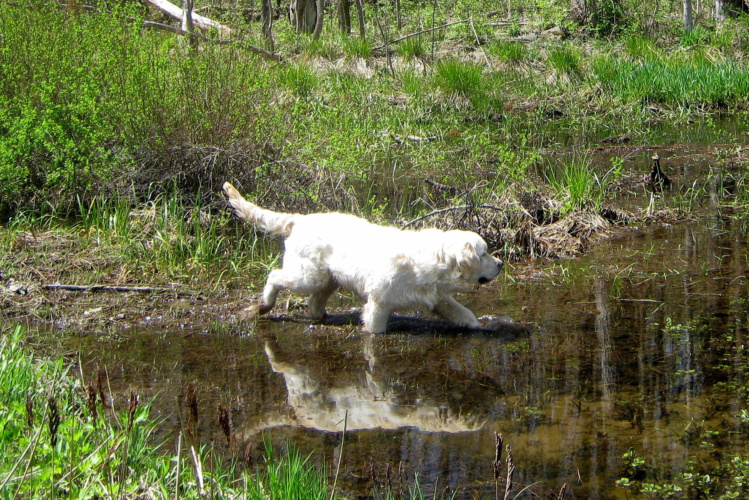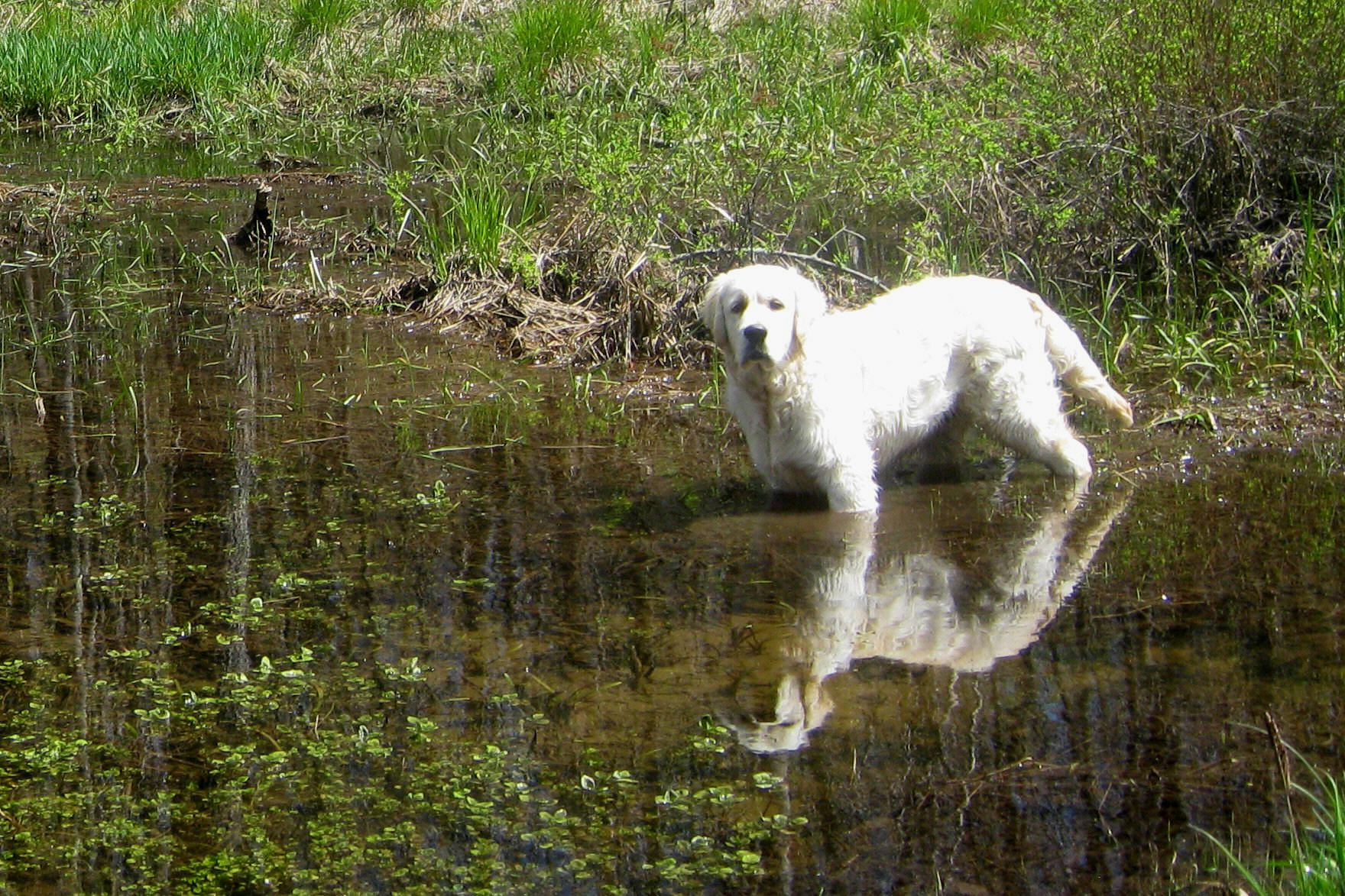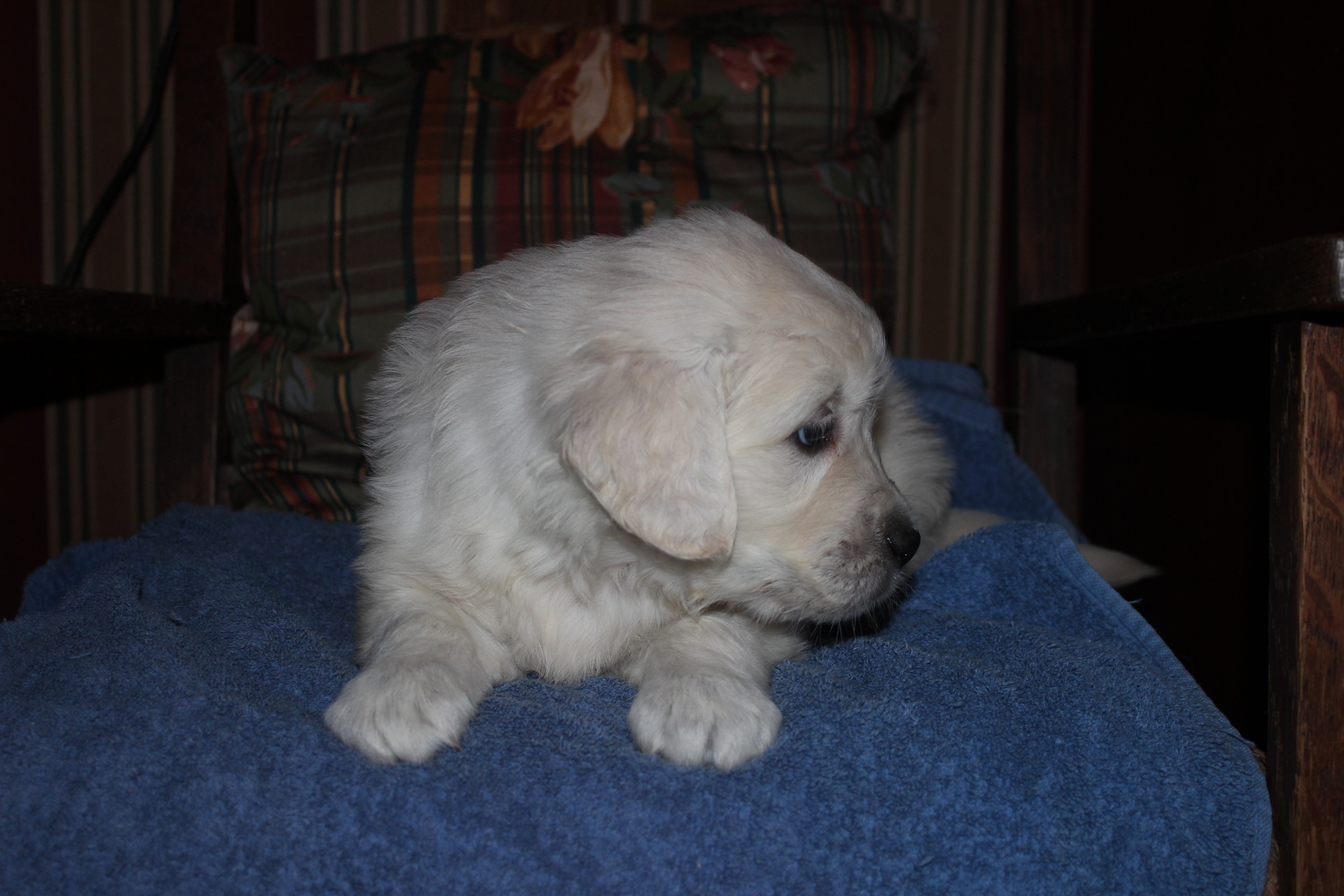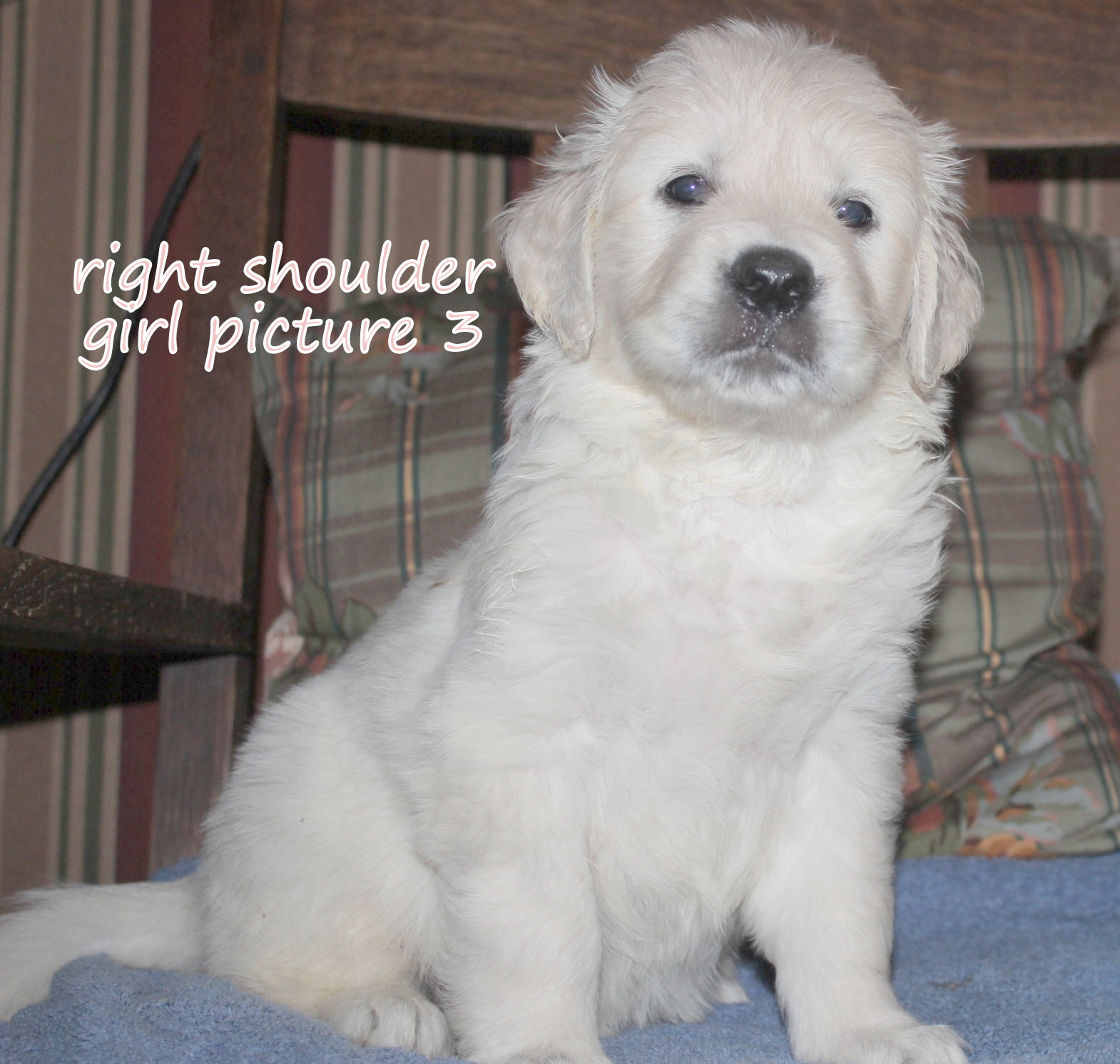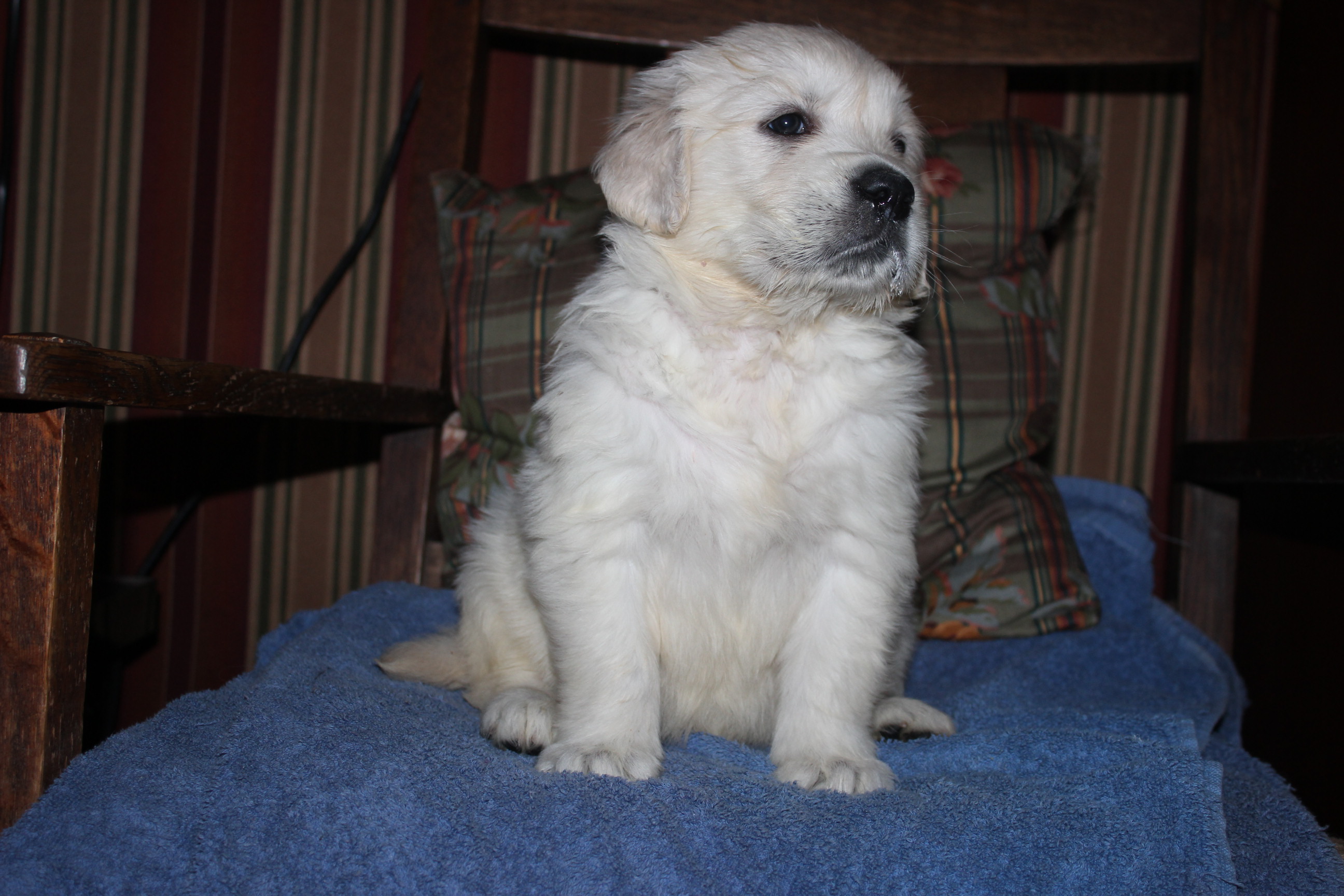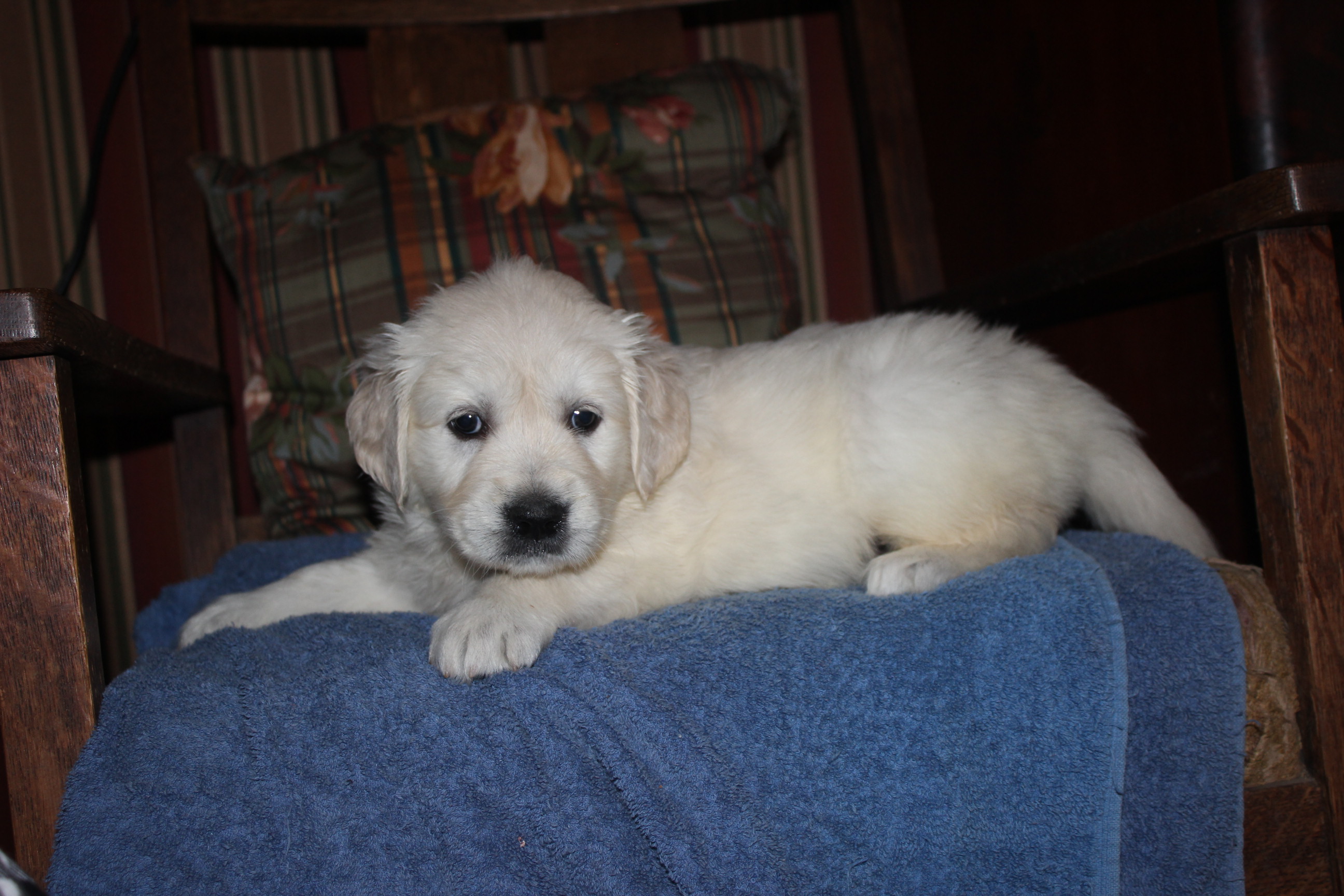 Canon started his show career in Canada in August-, and took the points on 2 days his first weekend out, barely into the Sr. Puppy class! Canon finished with Hailey Griffith in June of 2016. Canon has sired a couple of our litters and we look forward to following his puppies as they mature.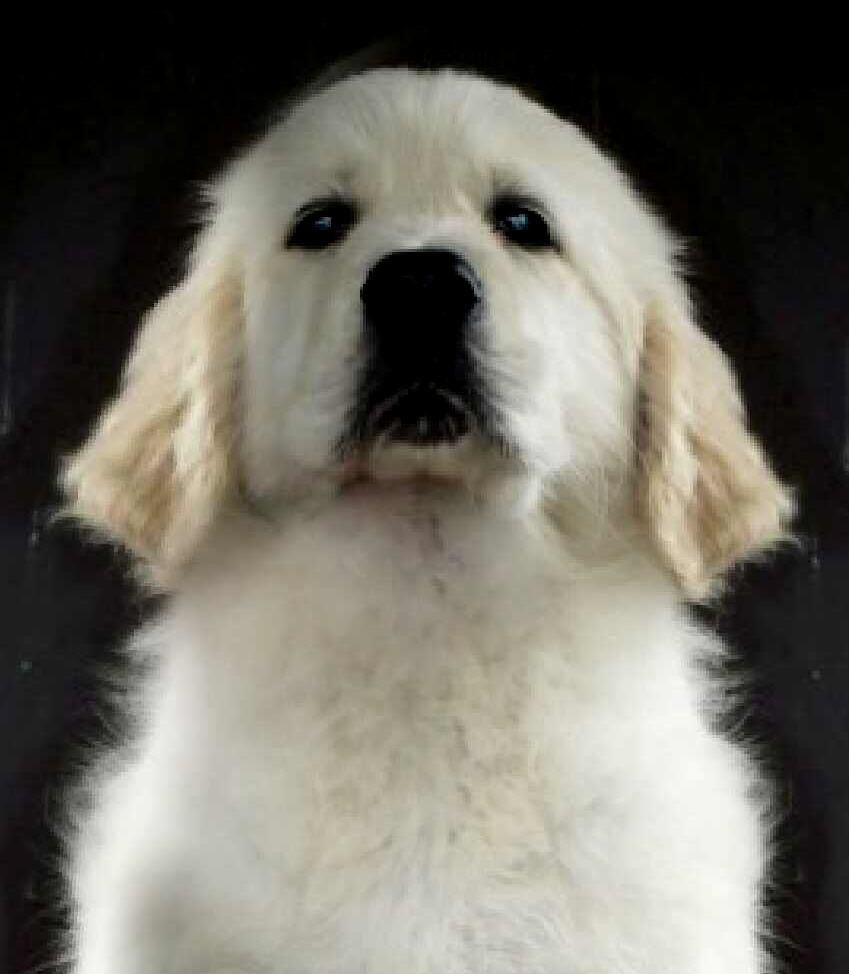 Some dogs have that presence and connection that demands you look at them.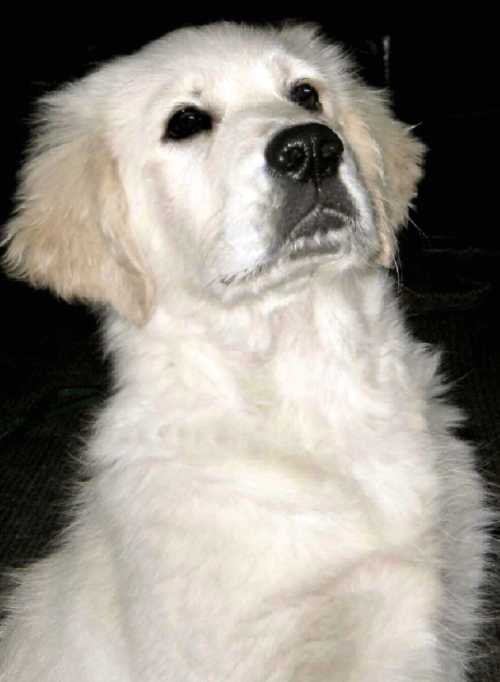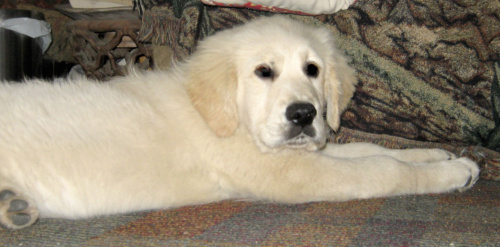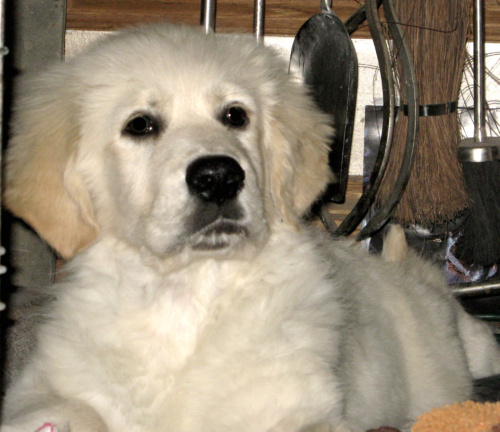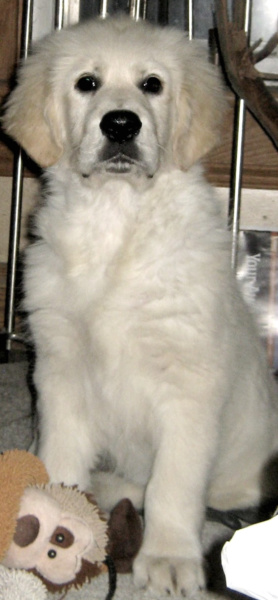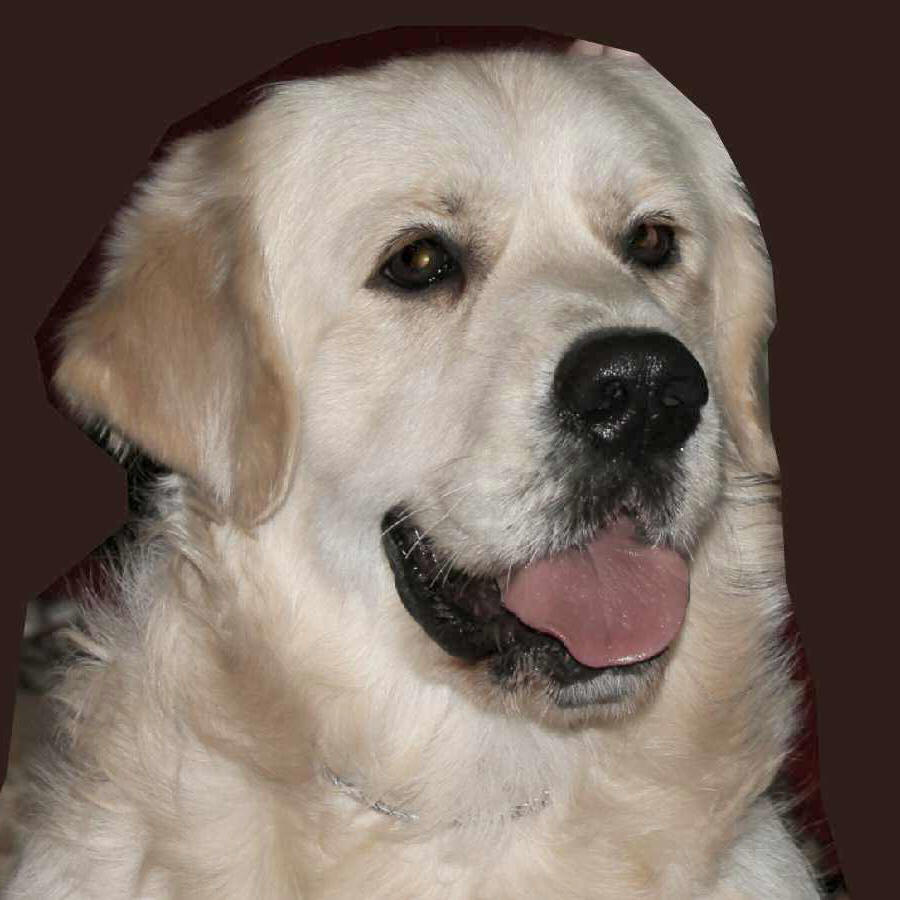 Canon is an active, curious fellow, always checking in to see if we are ready to play. His gait is true coming and going, and he moves around the house at a trot with his head held high, stretching it out for a show gait all the time. His attitude is exceptional-thanks again to Rose and her selection of both the breeding and this pup!
This guy really says "See Me and Remember."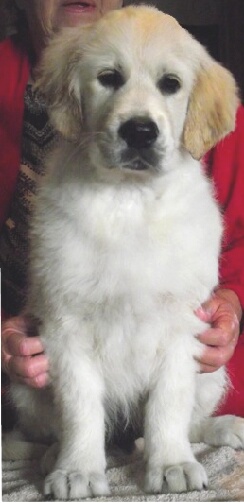 BACK